Skip to product information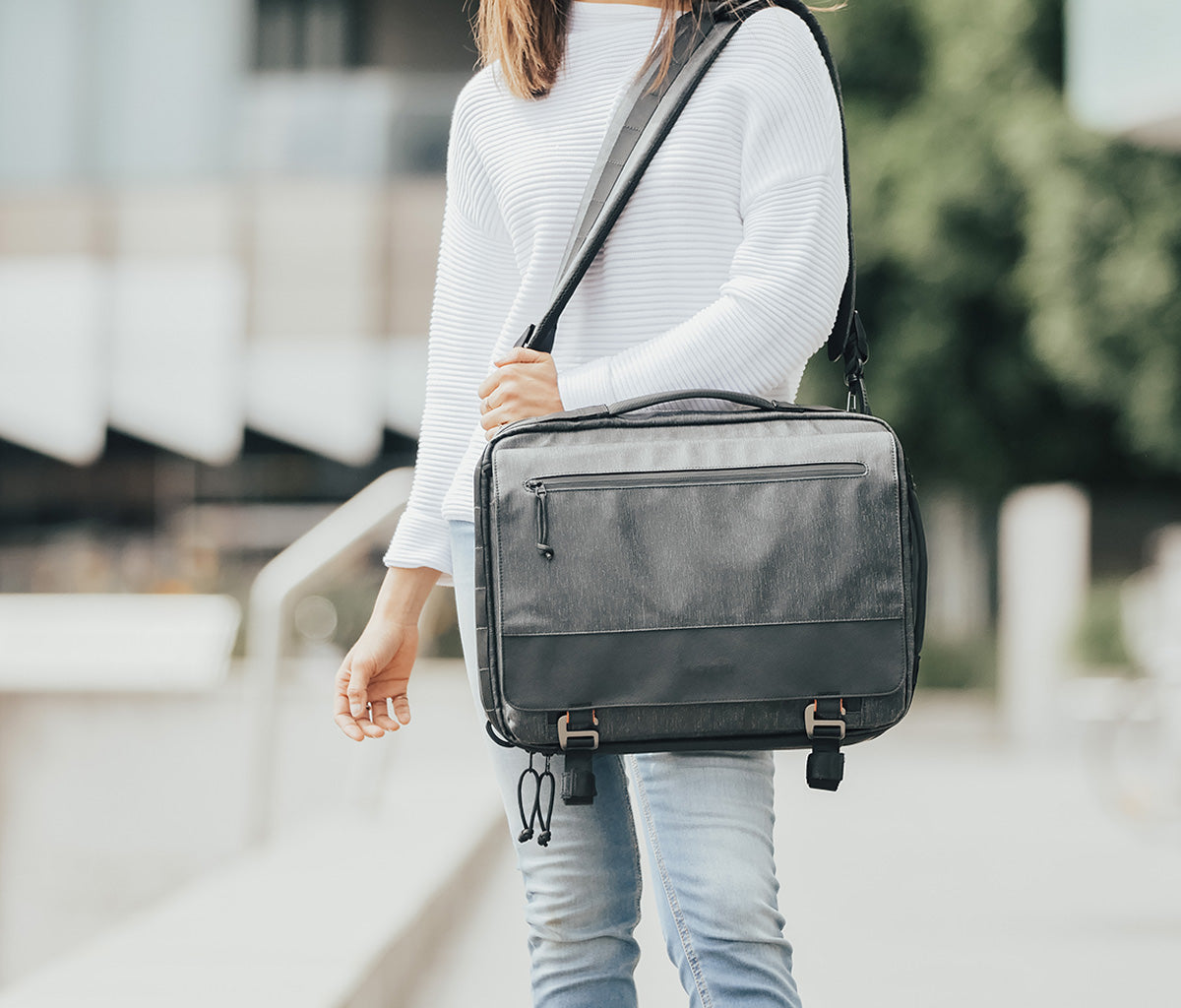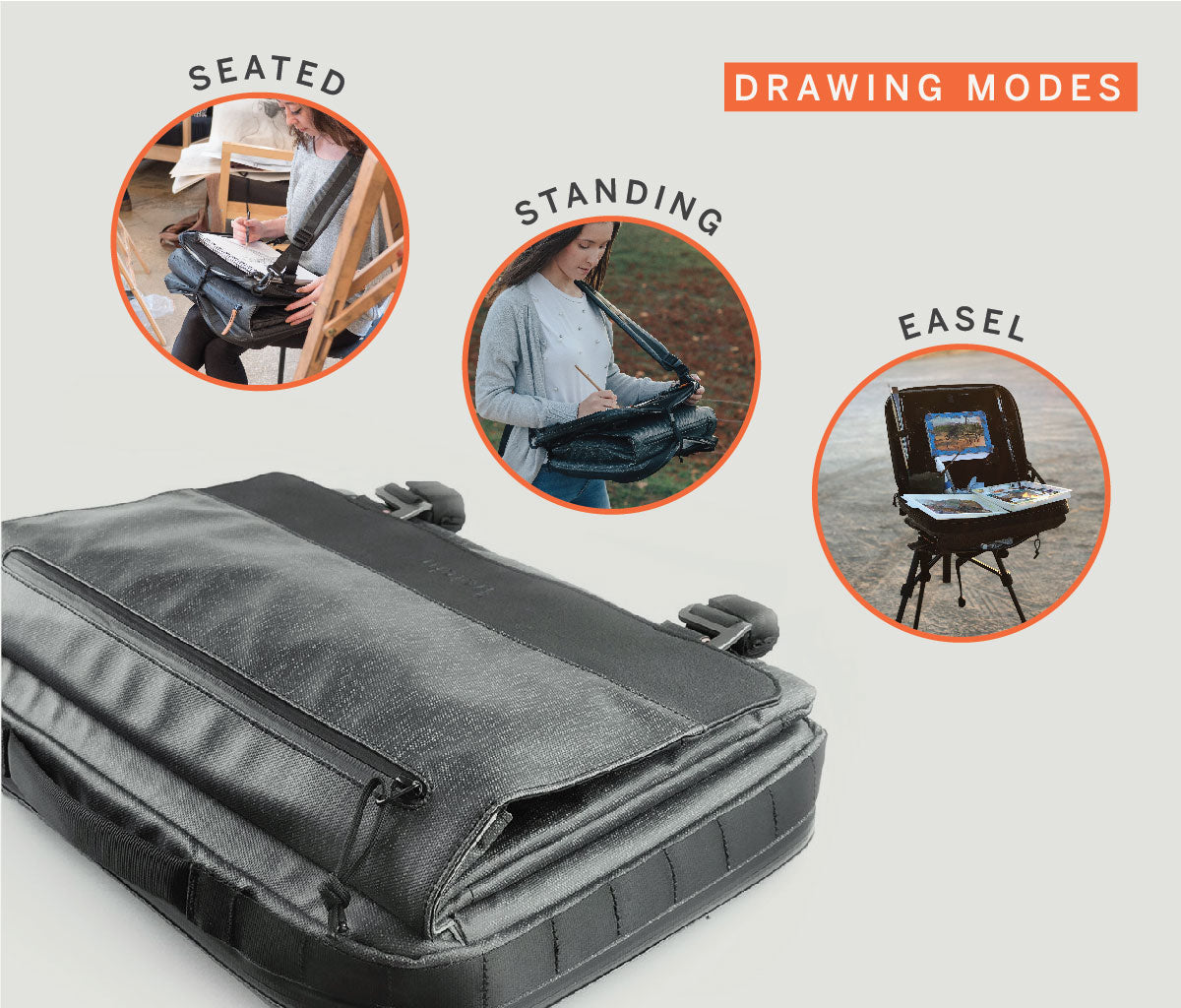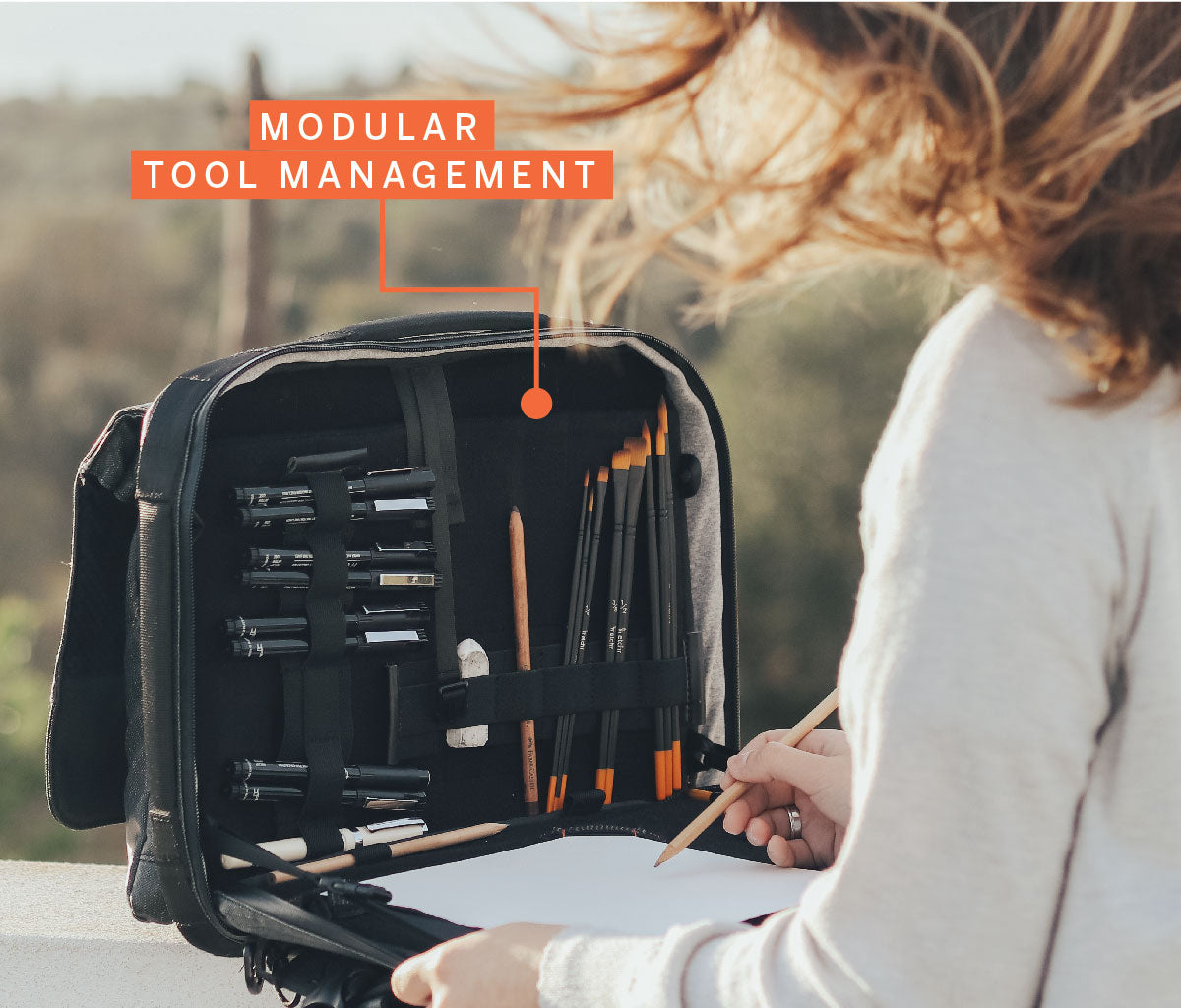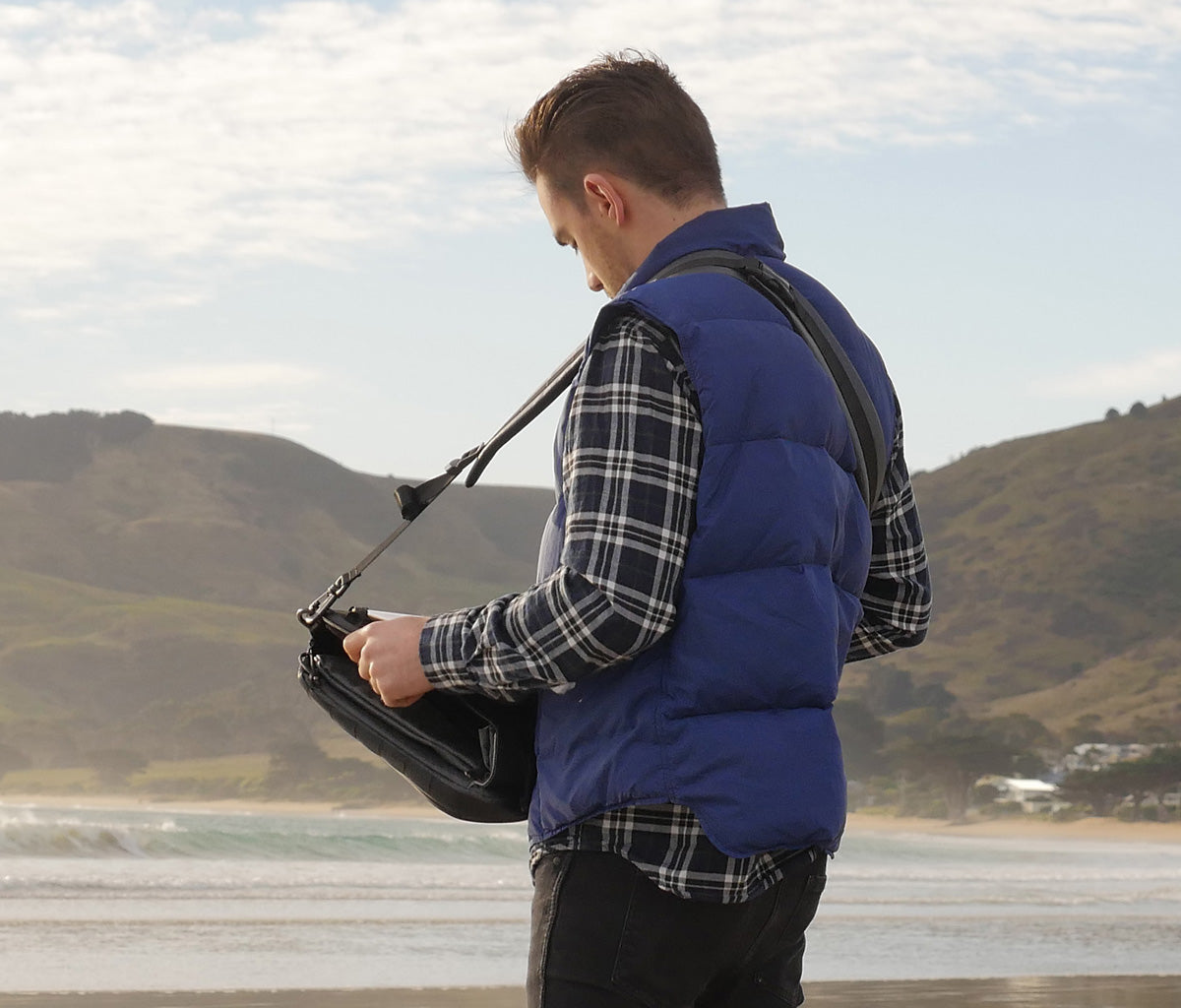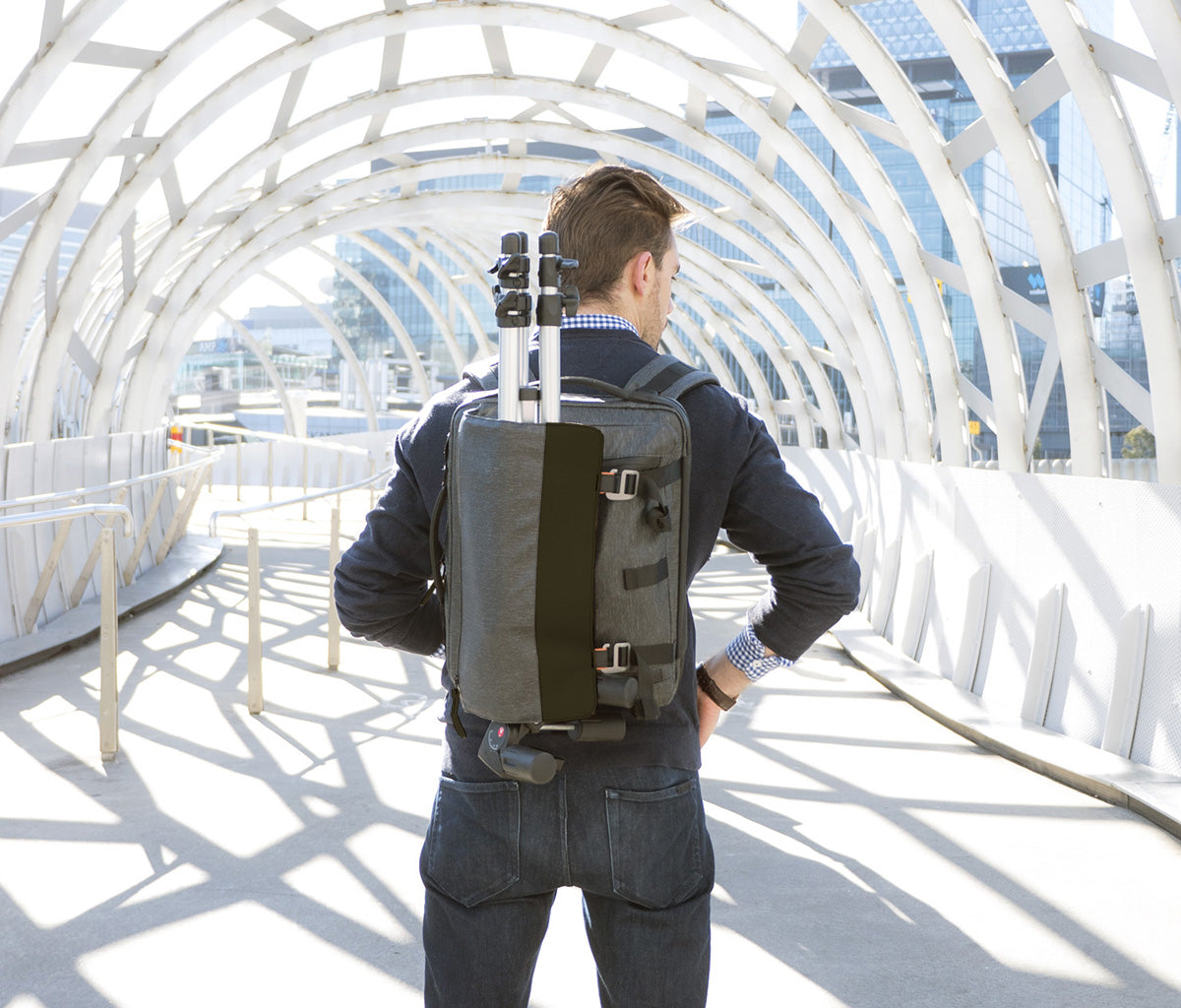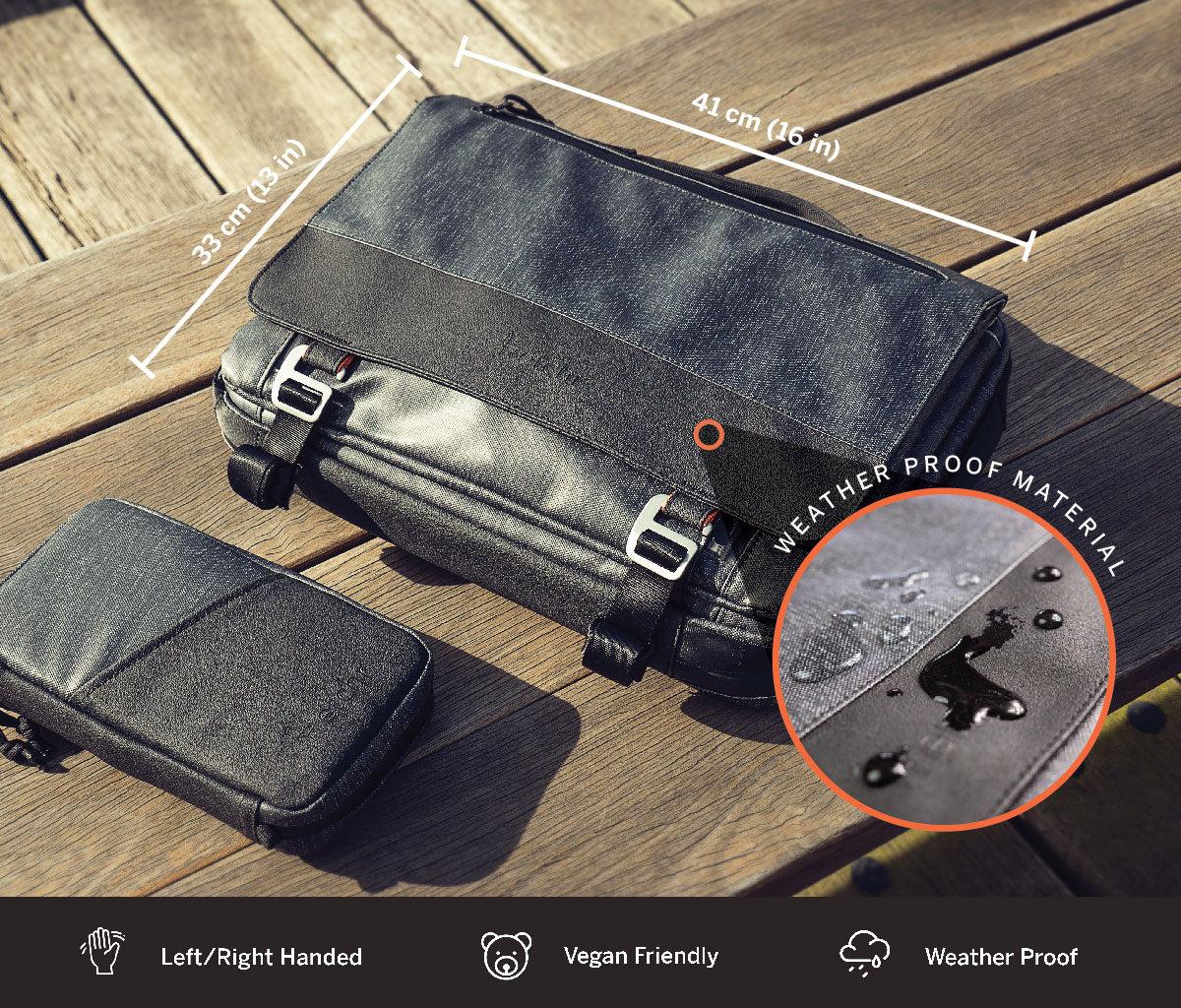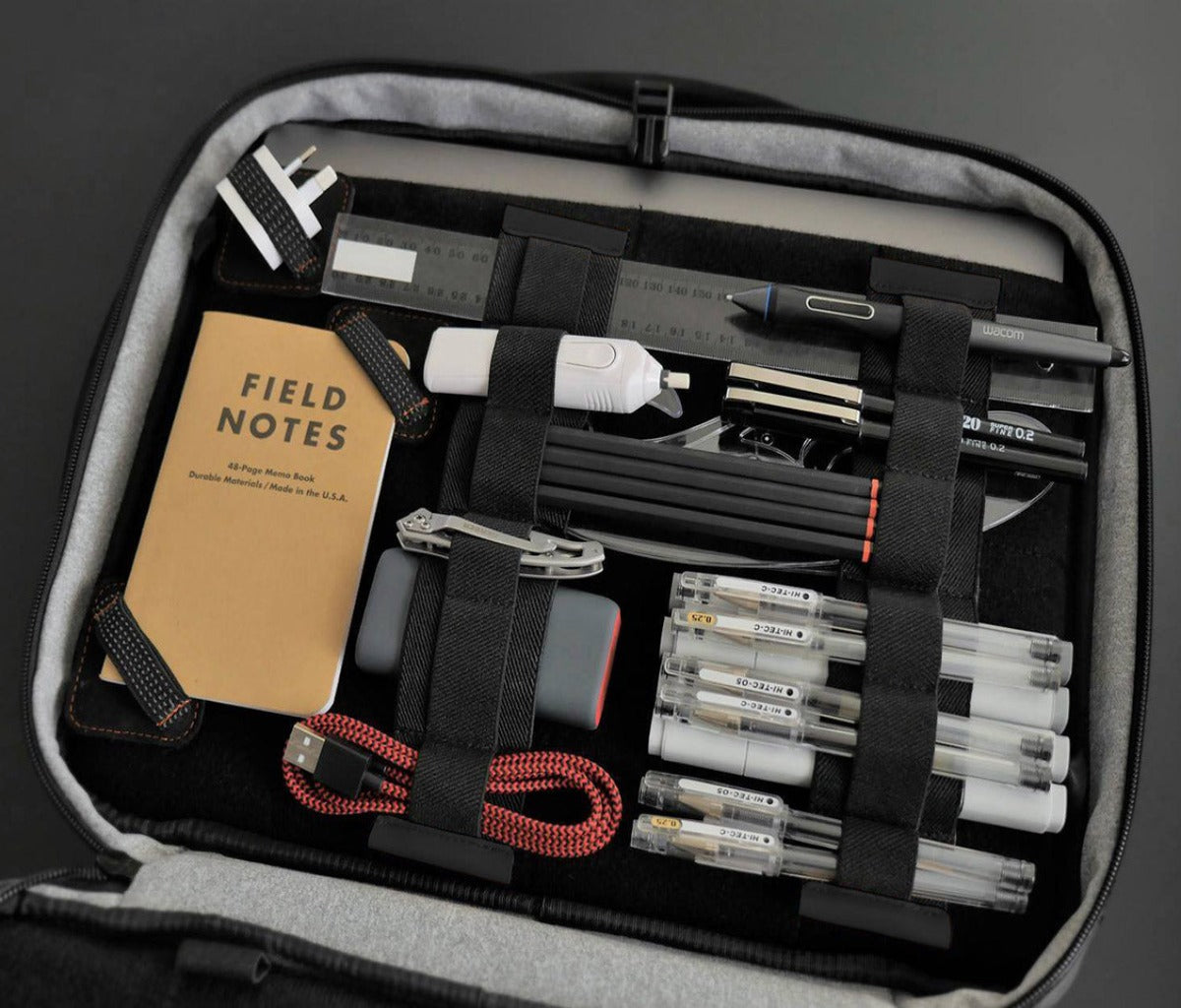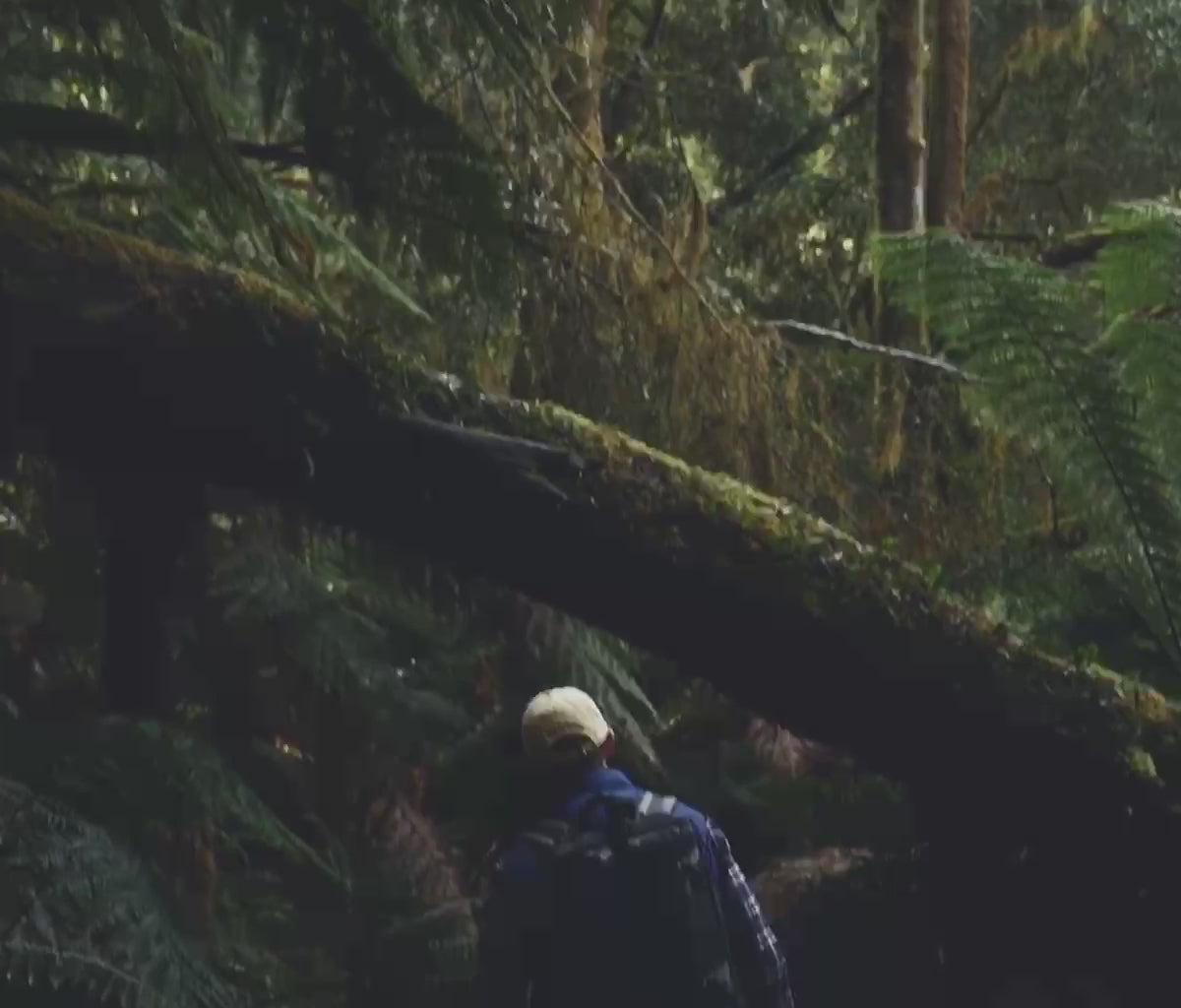 Art Satchel
Sale price
$252.00
Regular price
Designed by Australian artist and designer Darren Yeow (learn more below), the Etchr Art Satchel is the ultimate art bag. Built to carry your art gear wherever you may venture, the Art Satchel is in an expandable, weatherproof and modular system designed to adapt to your needs. It's perfect for either digital or traditional art-making, and it can be used as a backpack or a sling bag. Draw while standing, walking or sitting. Suitable for both left & right-handed artists. Free international shipping.*
*International shipping is free for all countries, however, for all non-US orders, you may be asked to pay local tax and customs when your goods arrive in the destination country.
DESIGNER COLLABORATION

PRODUCT DIMENSIONS

FAQ

VEGAN FRIENDLY

TRIPOD SUGGESTIONS

Our Carry Range was developed in collaboration with professional artist and designer Darren Yeow. Darren set out to create an artist bag that would enable him to create whenever and wherever he was inspired. Darren tinkered with home-made designs and built his product design and softgoods knowledge for years before producing his first "Art Satchel" on the back of a well-supported crowdfunding campaign.
Darren's initial bag design was unique in that the artist could quickly assemble a stable working platform on location, whether it was slung across the body, or attached to a tripod. After the success of this initial product, Darren wanted to turn his attention to designing more carry products for artists. This led to him joining forces with Yan and Simon to found Etchr. Etchr now ranges four carry products, each meticulously designed by Darren from his home studio in Melbourne, Australia. 
Art Satchel External Dimensions:
Width: 33 cm or 13 in
Length: 41 cm or 16 in
Depth: 10 cm or 3.9 in
Art Satchel Internal Dimensions:
Width: 30 cm or 11.8 in
Length: 38 cm or 14.9 in
Central Compartment Depth: 5 cm or ~2 in
Art Satchel Weight: 2.9 kgs or 6.4 lbs
Is the bag waterproof or water-resistant?
Our bags are water-resistant and have some waterproof components. Water-resistant is not the same as waterproof. Water-proofing is achieved by ultrasonically welding plastic panels together to create a watertight membrane - an extremely expensive undertaking that would likely triple or quadruple the price of our products if used. Water-resistance means that the item has a higher likelihood of keeping your possessions dry. The Polyester shell covering the outer surface of our products is waterproof and the Toughtek covering high-wear areas is waterproof. The zips and stitching are water-resistant. All these features work to greatly minimise moisture entering the internal compartments and damaging your belongings and art. However, the Art Satchel and Field Case cannot be classified as waterproof strictly speaking. Nevertheless, one of our customers took his Slate Mini out during a Tropical storm (same materials) and the results were amazing. The bag kept everything dry.
What components come with the Art Satchel?
Our Art Satchel comes with 2 x Tool Strip, 8 x Corner Tab, 2 x Elastic Tab, 2 x Buckle Strap, 2x Tripod Strap, 1 x Shoulder Strap and 1 x Tripod Mount Board. Some people prefer to keep a few spare components and that is why we have made them available online.
Does the Art Satchel come in different sizes and colours?
At this stage the Art Satchel comes in black only and one size. We'd love to offer it in the future but probably not in the short term.
What size laptops/ tablets will the Art Satchel hold?
The Art Satchel is designed to carry a smaller tablet in the removable Storage Caddy or a larger tablet / laptop in the laptop sleeve or in the main compartment. The maximum outer tablet / laptop dimensions that the Art Satchel can hold (in the main compartment) are 14.9 x 11.8 x 1.5 in (38 x 30 x 3.5cm).
What size paper will the Art Satchel support?
The Art Satchel is designed to support A4 size traditional mediums. However, some people have made a few minor alterations to their satchels to support larger sizes (e.g. A3).
How do different modes of the Art Satchel work?
Our Art Satchel and Slate Range are flexible and modular in design to help accommodate various needs and scenarios. We have prepared a detailed explanation videos for the Art Satchel to walk you through the functionalities available in different modes: https://www.youtube.com/watch?v=ByU9Sn60_yo
We love animals. We don't want our products to be made of them.

The external material of our bags is a dark grey polyester with black toughtek front flap accent and toughtek for hardwearing areas. The internal materials are felt and ripstop material. The zips are YKK matte black water-resistant
.
We use Manfrotto products, in fact we have three of them in our office - two photography tripods and one for video / filming.

Prices tend to range between US$200 - US$1,000 and they're a market leader in the photography equipment field for a reason.
We strongly suggest physically visiting a camera specialist store to try them out in person.

You can often buy the head (the component which your Etchr product will attach to) and the tripod (the telescopic legs) separately.

The heavier build aluminium tripod legs are more rigid and sturdy than the lighter build aluminium legs. It's a trade off between portability and stability. If your Etchr product is loaded up with gear, lightweight aluminium legs are more prone to instability whereas the extra ballast from the heavier builds offers greater stability. Ultimately, it's a personal decision as to what is more important.

The second part you'll want to look at is the head – this attaches to the Etchr tripod attachment plate. There are a few different types of heads but the most common are ball-heads and three way / axis heads. Our advice is to generally ignore the ball heads, unless you're only going to be carrying very little gear. They're ok for cameras but for our products the ball head mechanism can sometimes slip when you're working with them. The 3 way / axis heads allow you to lock all 3 axis, so it's much more capable overall.

Finally, make sure to look for an easy to use spring loaded quick release plate on the head. A fiddly mechanism to deal with can be annoying in the field.

If you can stretch your budget, the Manfrotto 290 XTRA Tripod + MH804 - 3 Way Head (MK290XTA3-3W) is a great choice.

If that is a little expensive, the Manfrotto Compact Advanced Tripod + 3-Way Head is also a solid choice at only half the price.